OK, I've been really busy lately, not so interested in posting after I'm done with this – just reading and responding to other blogs, wouldn't ya know. . . but I'm going to show you a couple of things I've been using that I think are marvelous.
I've been doing some sewing, but my sewing room is also for mending and such, so sometimes I end up not interested in sewing by the time I've made room for it. One of the time-consuming things is a few of hubby's shirts. (BTW, when they tell you a high cotton count shirt is "wrinkle free", they're lying.) I don't mind doing them, I put on the TV and zone out, but it just takes hours to do all of them – and I forget to iron until I have all of them. So when I got an e-mail from Atlanta Thread with a discount coupon, I splurged on a couple of things.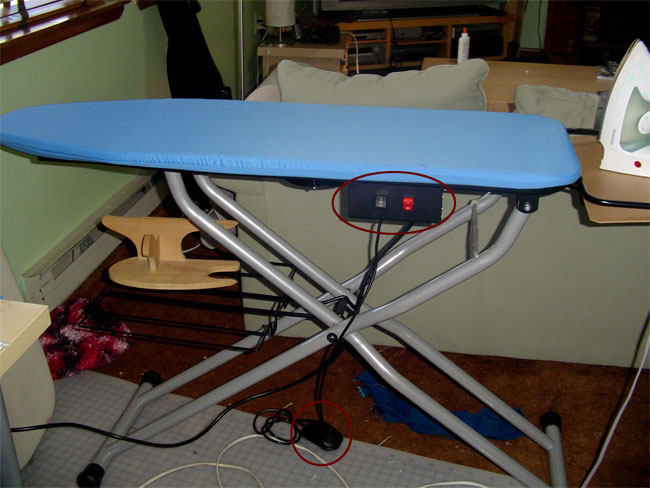 This is a Reliable Home Ironing Board. It's heavy and sturdy, doesn't rock around like your average board, AND it has a heating element and a fan that will blow upwards or downwards to help move steam and heat through the fabric. The foot pedal turns the fan on and controls the speed, and not only does it help in getting the wrinkles out (and not putting new ones in) but it also keeps things in place that might otherwise slip off the board. Only bad thing is that it's way more powerful than my Iron now, so I might have to upgrade that, too. Heh.

I also got this massive sleeve/pants board. I can finally do the cuffs and the pleats above the cuffs. I do sleeves first, then the rest of the shirt, because the shirt gets kind of twisty while I'm ironing the sleeves.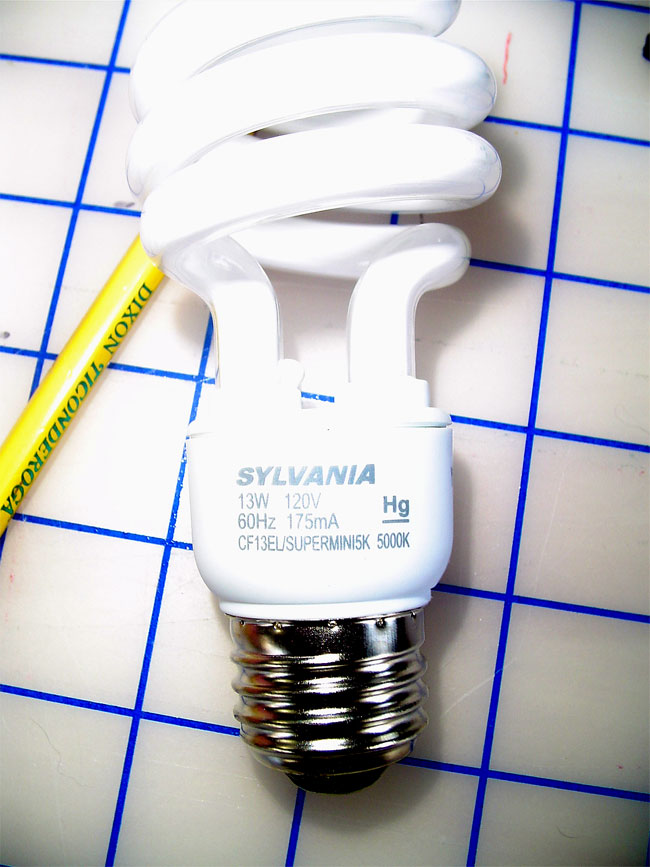 Now, normally I'm not a big fan of Sylvania lightbulbs, but this one is great. It's a full-spectrum halogen for sewing and crafting that fits in a regular fixture. Is it as good as an Ott Light? No, but it's darn close and a heck of a lot cheaper. I have my Ott bulb on the right and this on the left, and I can see everything as I sew.
I haven't spent all my time indoors, though. We had a lovely weekend, and I got started cleaning up. I prefer to take care of the leaves in the Spring. In Fall, they're everywhere, and they keep dropping after you think they're done (or blowing in from other places), and you always feel the pressure to drop everything and work if it's nice, because it won't stay nice out for long. The heck with that. Before Winter, all the leaves have blown off into piles, and I can bag the ones that might damage plants by staying there and leave the rest as protective mulch. In Spring, they get blown into even more compact piles, and each nice day will be followed by more nice days, so the pressure's off. Since I started the Spring Leaf Cleanup this weekend, I became reacquainted with a couple of my favorite tools: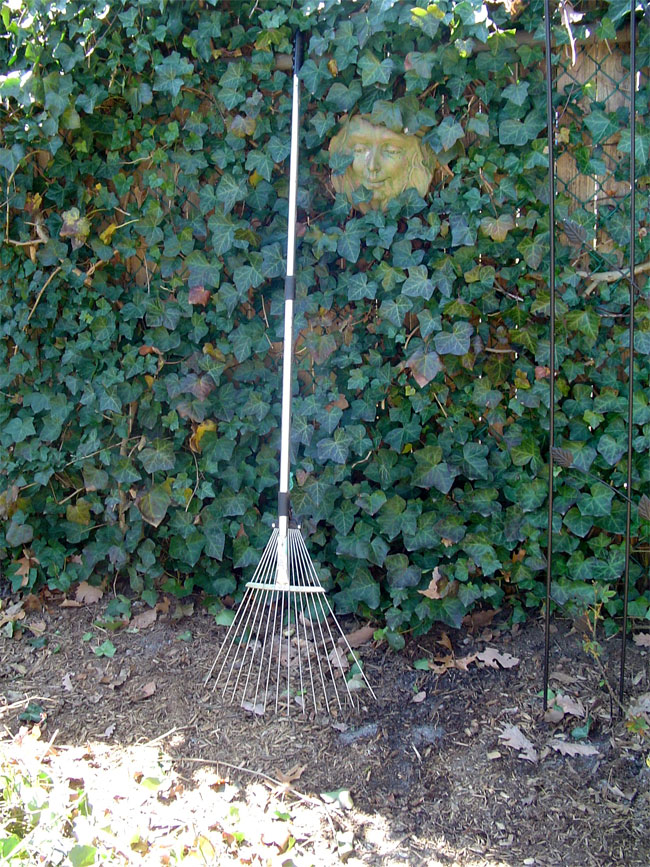 This is one of those rakes that can be made wider or narrower by sliding a rod attached to the tines. (It has a telescoping handle, too, so it takes up less storage space.) It's great for getting under and in between and behind – less time crawling around on my knees to clean out tight spots! This is one of the cheap ones from Rite Aid or Cost Cutters or wherever I got it, and I've been using it for several years without trouble.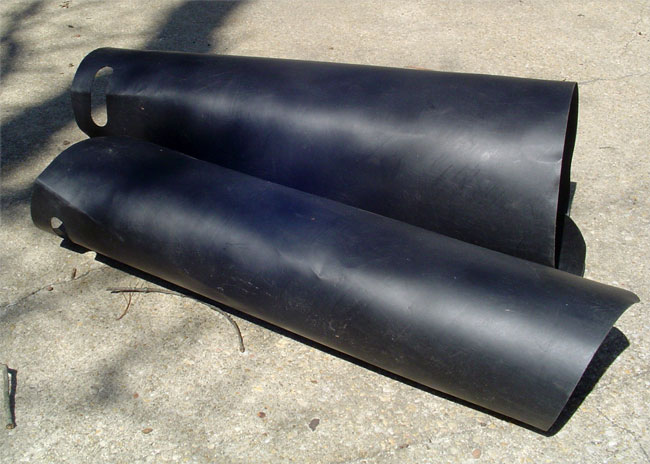 This was here when we moved in. We had no idea what it was, but for some reason, we didn't throw it away. Now I'm glad we kept it: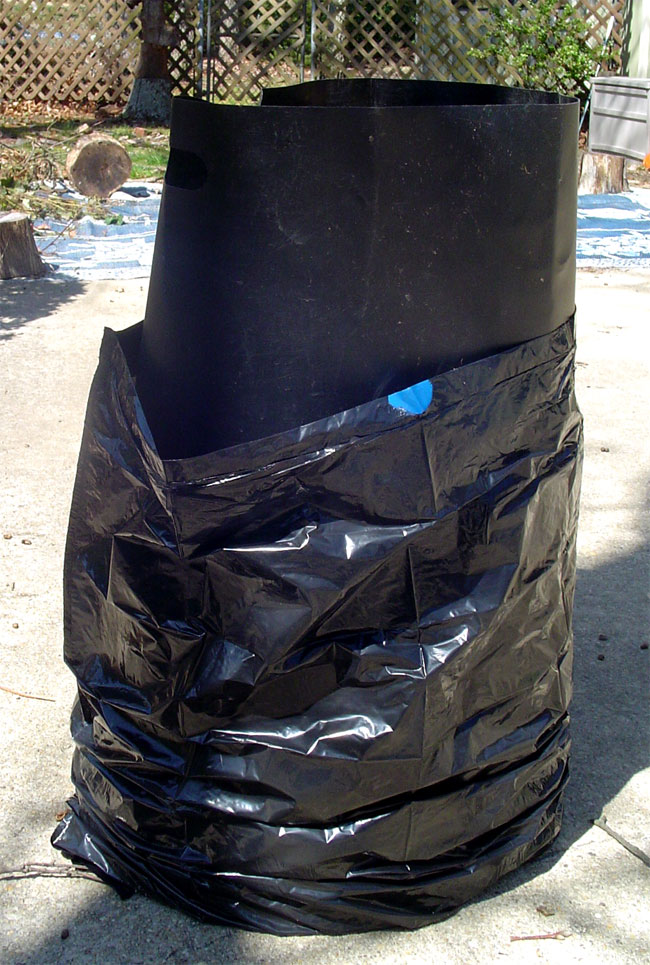 We've tried all kinds of leaf bag holders – wire frames, boxes, tape holding them to fences, the daughters, but none of them has worked as well as this. I dump in rakefuls of stuff, I can smash it down to fit more, and nothing pierces the bag. When it's full, I grab it by the little handle cutouts and slide it right out. Yowza! Oh, and I'm not being all irresponsible with these bags – the handles are tied in bows so I can take them to the town recycling center, untie and dump them, and then use them again. They'll collect them at the curb, but it's so stupid. They don't want them in paper bags, which would speed up collection and would decompose in the giant town mulch pile, oh, no. They want them in plastic – and when they collect, the guys rip the bags open, dump the leaves in the truck, and leave the empty, torn plastic bags on the street. It's a pain to take them in myself, but less so than cleaning up the mess the leaf pickup leaves behind.
So there you go. Merchandise that gets my seal of approval. Buy with confidence. Heh.