So I'm doing the pond maintenance thing, backflushing and cleaning the filter media, and discovered our frog hiding in the bottom of the filter/spillway: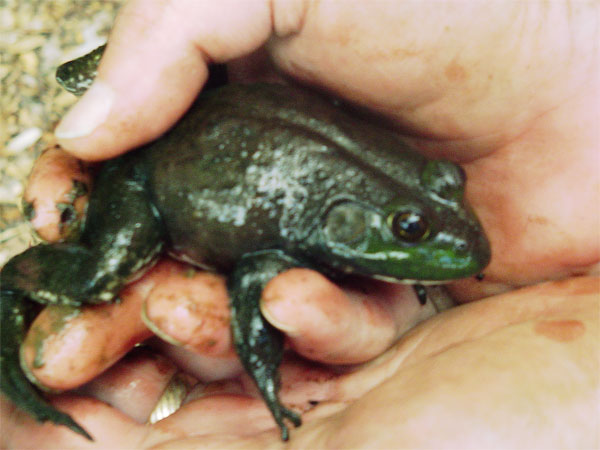 At first, when we found it, I was concerned that it would eat the fish. Not today, though, because I discovered more shubunkin fry in the pond. I have no idea how they got there – our two adult shubunkins are both male, and the rest are too small to breed. Or so I thought. Hubby suggests they might have come in as eggs on one of the new plants. *sigh* So we plopped the frog into the pond and hoped he was hungry. We also have many, many tiny snails, which is good news, because we thought we might have killed them all with the fish medicine, and they're algae eaters.
Strangely enough, we were talking just today about how best to euthanize fish. The shubunkins that are indoors in the tank have eaten almost all of one of their siblings' fins and tail. He/she is not a well fish, and it's taking a long time to pass away. Days. It's very sad to watch. So we have a sick fish in the tank, too many fish in the pond, and something humane has to be done about it. Fortunately, Doctors Foster and Smith sell a fish anesthesia (at a mighty fine profit, I might add) that will work as painless euthanasia at a higher dose. I read about a number of other methods, and believe me, I'd rather pay too much money and avoid the guilt of those. If only we could just train the blue heron to feed selectively. . .