I threw my back out Monday, just in time for all the furniture moving. We managed by carefully planning what I would move or not move and enlisting the kids. The laminate is all down in the living/dining room, and the installer is working on the edges and joints. The bedroom comes next. It looks so beautiful!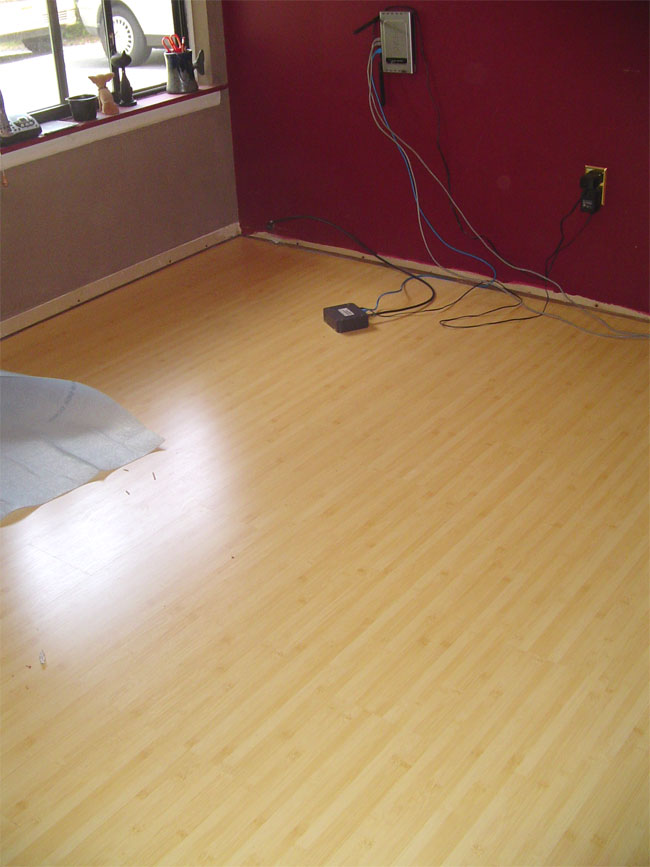 Now, all our furniture except the dining table is from IKEA, and in the birch finish. However, the stand for the fish tank didn't come in a choice of finishes, and the credenza was bought a looooong time ago. The table is from Crate and Barrel, and even though it's a dark brown/black finish, it looks really good with everything else. So I had this idea to pick a paint color that was as close as possible to the table finish and paint the tank stand and credenza. They're next to each other, but not directly in sight of the table, so close was what we were aiming for. Found a swatch at Benjamin Moore (my fave paint store – if you want really deep and/or saturated colors, they're the place to go) and got a gallon. Started to paint, carefully protecting my back, and the color looked. . .purple. Well, you know, most black tints are made with varying amounts of blue and purple, and I knew it would dry darker, but dayum! This is undeniably purple, a teeny smidge browner than eggplant. I LIKE it! It's dry now, and you really don't see it as purple except in sunlight and against the orange bedroom walls, which is why it won't be painted on anything in the bedroom, but somehow just knowing that it's really purple makes me happy.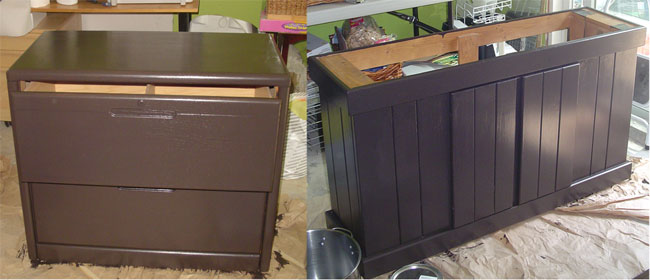 By the way, the lovely green in the background is the color we chose for the art studio. We still have to sand and prime before the whole room looks like this, but it'll happen.