So, perhaps you recall the saga of the washing machine. The first time it made the horrible smells and noises, I also mentioned the dishwasher. The second time, when it set off the smoke alarms, I had said I wouldn't buy another Maytag. Well, hubby had to disassemble the Maytag dishwasher for the third time in a year (keep in mind that the machine is two years old) to get the thing unclogged. We've been cleaning everything off the dishes before they go in since the last time, but we still are getting particulate grunge stuck on the clean dishes every cycle. The filter has a fine plastic mesh that's supposed to trap this stuff, but the problem is that it's completely enclosed and can't be cleaned. So, the plain water rinse we tried from the tap and from the garden hose didn't loosen a thing – but when the dishwasher starts forcing water and detergent through it, it comes loose. Hubby ordered a new one, because a $30 part is less expensive than a new dishwasher. However, he and I agreed that I should write to Maytag and see what kind of response I got. We expected it would be an exercise in futility, but we'd feel a lot better getting it off our chests. So here it is, and I'll show you the pictures I couldn't show to Maytag:
I would like to upload a zipfile of photos of my 2-year-old Maytag dishwasher just to show you some of the reasons I will be replacing it rather than repairing it. We have already had to have the handle/latch assembly replaced, and after disassembling it three times to clean it, have ordered a replacement filter, since it is too sealed to clean, but open enough to redeposit particle waste on the dishes. The stainless steel front is stained by leakage every time it's run, and particles and stains are left on the gasket and in the supposedly sealed areas of the tub and door as well. I spend so much time re-washing dishes by hand and cleaning the dishwasher itself that it hardly qualifies as a labor-saving or time-saving appliance. If you would like to see the images for confirmation, I will attach them in a later e-mail, or upload them to an image host of your choice.

My previous Maytag dishwasher was not this bad, but was also not trouble-free. Two months ago, we had to replace the two-year-old Maytag washer that came with the house, and the two-year-old Maytag dryer that came with the house is showing signs of impending death. I have been a loyal customer, recommending this brand to others as well, but this will no longer be the case.
An example of the stuff I have to wash off the "clean" dishes: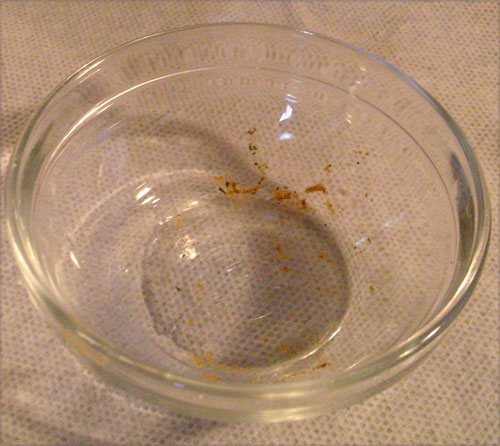 The disgusting stuff on the seal and in the tub after a wash cycle: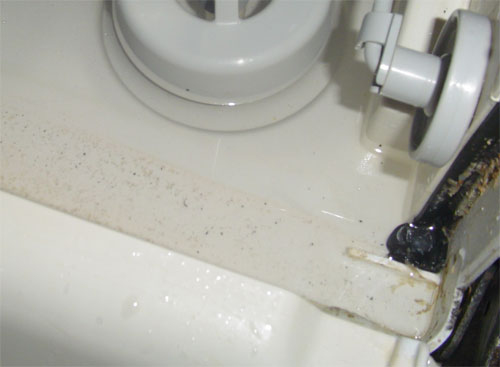 The stains on the front from water and detergent leaking out from inside: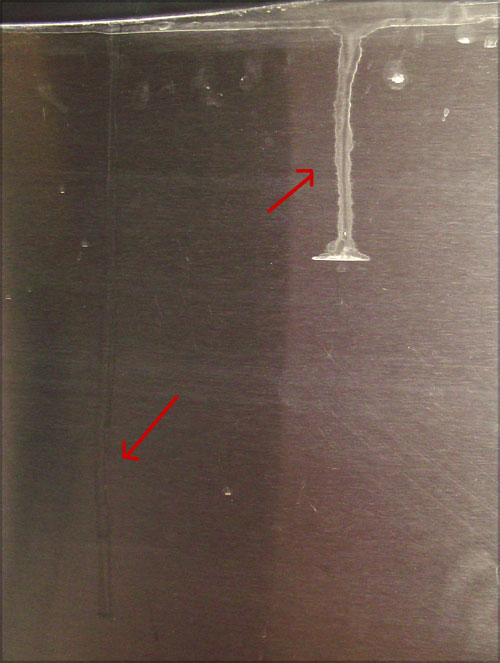 As I was loading yesterday, I remembered that I hadn't mentioned how the adjustable rows of spindles that seemed like such a great idea don't stay put, and tend to fall over right after you've put in all the dishes that fit, so you have to unload them all, and hold the spindles in place as you reload. That's of no consequence now. Here's the reply I got from Maytag:
Dear Ms. M:

Thank you for visiting the Maytag website, we appreciate hearing from you.

We apologize about the issues that you have encountered with your Maytag Dishwasher.

Since we are also consumers, we certainly understand your frustration. Although we try to use only the best materials on the market today, we cannot guarantee there will be no repairs or part replacements needed during the appliance's lifetime. Components do deteriorate or fail on occasion due to factors over which we have no control. We cannot explain what factors have contributed to your concern.

In the event of a problem, we recommend that you contact our Customer Service Department for assistance. Also we have authorized service providers that are available to evaluate, diagnose and repair issues that may occur with your Dishwasher.

We are truly sorry to learn that we have lost favor with you.

We value you as our consumer and appreciate your loyalty to the Maytag brand. For any other questions, comments or concerns, please feel free to contact Maytag again either by calling (800) 688-9900 or by emailing whenever the need arises. When calling, please press the available option or stay on the line to reach a representative.

We apologize for any inconvenience that this has caused you.

Sincerely,

A.
Maytag Customer Loyalty Team
Maytag Customer eXperience Center
Hmmm. Components deteriorate or fail over time. That would explain the one-year warranty, eh? And, of course, I'm not smart enough to contact customer service, who will send over a repair person and generously not charge for the replacement parts, requiring me to pay only the $175 service charge. Well, Maytag, you know what's easier? Not buying any more of your products and making sure I get the word out about exactly how important customer loyalty is to you. I can hardly wait until the machine breaks and we can't fix it ourselves. I'll start saving up for a different brand right now.